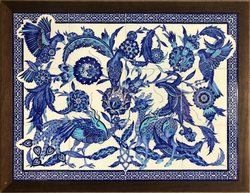 MOL Turkey
The Qilin and the Chinese Phoenix
The Qilin(giraffe), gentle and serene, never harming a plant or even a small insect.
The Phoenix, full of compassion and wisdom.
Both are said to appear as auspicious omens only in a peaceful world ruled by benevolent and virtuous rulers.
Now, is there a place where the giraffe runs and the phoenix descends?
Is there now a land where qilin run and phoenixes soar?
Underglaze- painted tile panel  
Product Name: The Qilin and the Chinese Phoenix
Tile Size: W 80 x H 60 cm (20 x 20 cm, 12 pieces)
Frame Size: W 88 x H 68 x D 3 cm
Weight: 9.80kg
Material: Ceramic
Place of Origin: Türkiye
Hand painted and handmade by Ryuko Kito