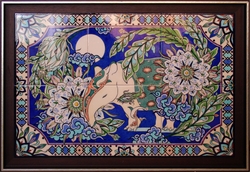 MOL Turkey
Baku under the Moon
The baku(tapir) is a mythical beast that came to Japan from China.
It is said to live by feeding on people's nightmares.
It is said that if you chant "I give this dream to the Baku" after having a nightmare, you will never have the same nightmare again.
Underneath the beauty of the moonlight that blooms at night, a baku that eats people's dreams is standing tonight.
Who will eat his own dreams?
Underglaze- painted tile panel  
Product Name: Baku under the Moon
Tile Size: W 60 x H 40 cm (20 x 20 cm, 6 pieces)
Frame Size: W 69 x H 49 cmx D4 cm
Weight: 5.10kg
Material: Ceramic
Place of Origin: Türkiye
Hand painted and handmade by Yumiko Kubota