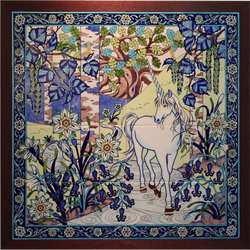 In a spring forest of daffodils and bluebells in bloom,a legendary unicorn appears on the shore of a clear stream.
This is a gem suitable for decorating the entrance to the office of a promising venture company.
It is also recommended as a gift for the opening of a new business.

Underglaze- painted tile panel  
Product Name: Unicorn
Tile Size: W 80 x H 80 cm (20 x 20 cm, 16 pieces)
Frame Size: W 88 x H 88 x D3 cm
Weight: 12.90kg
Material: Ceramic
Place of Origin: Türkiye
Hand painted and handmade by Yumiko Kubota